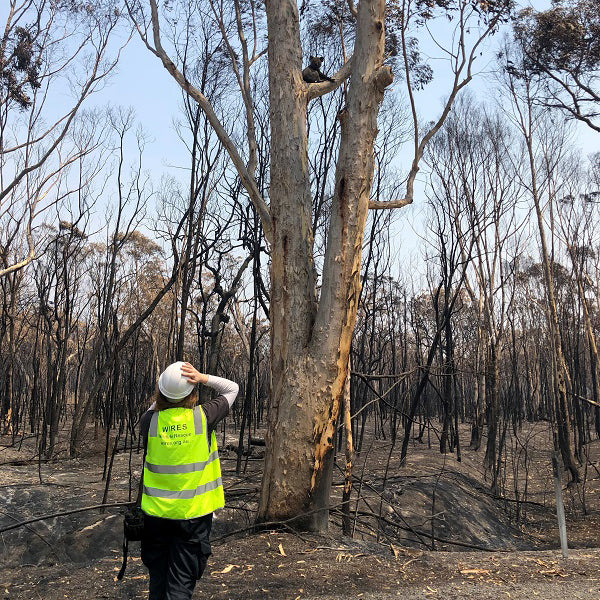 Together, we can help our furry bushfire victims.
Nov, 29 , 19
Shannon Johnston
Thanks to you, the Pawprints family have committed to supporting the amazing WIRES Foundation, in their efforts to care for fauna affected by NSW's recent bushfire devastation. Surviving animals are expected to face ongoing struggles, caused by food and water shortages and lack of habitat, for an extended time. Profits from all Black Friday weekend orders will be redirected to those in need – from the WIRES Foundation and us, THANK YOU!
Only weeks into this year's fire season it is already believed to be the worst on record. Lives have been lost, hundreds of homes have been destroyed and there are still over 150 fires burning in NSW alone, dozens of them uncontained. Tragically the fires come on top of one of the worst droughts in history and the combination of natural disasters is even more devastating for wildlife. Many native animals will have perished in the fires, others were struggling prior to the fires with starvation due to the drought.
This koala was spotted during search and rescue operations in Wollemi national park. As Tree Serve crew members assessed burnt and potentially dangerous trees they spotted a koala on the ground. As they approached he climbed the only surviving gum tree in a completely blackened area. Some of WIRES team searching for wildlife on a nearby property were notified, and when they arrived the male koala was 10 metres high. With the help of the Tree Serve crew and their cherry picker, the koala, named Odin, was rescued from the tree and taken to North Richmond vet for urgent rehydration. 
Odin was weak, dehydrated, covered in ash and had burns on all paws. Now in the care of WIRES volunteer, Alison, she is working with local vets to provide him with the best care possible. We do not know yet if he will be strong enough to recover but he is receiving the care needed to optimise his chance of survival.  
Unfortunately, the Bureau of Meteorology (BOM) is also predicting a difficult summer with ongoing fire threats and extended drought conditions likely, due to expected drier than average conditions, below-average rainfall and higher than average temperatures. 

– For the love of pets. 🐾